Fast & Professional Floor Coating in Chicago IL
When you think about interior finishing, floors probably aren't the first thing that comes to mind. However, a good coating job can enhance your facility's appearance and protect against traditional wear and tear. At All-Tech Decorating, we offer several professional services for floor coating in Chicago IL. Our offerings include:
Resinous Floor Coatings
Industrial Floor Coatings
Epoxy, & Urethane Coating Systems
And Attractive Finishes
Advantages of Seeking Our Services
The All-Tech Decorating Team serves several industrial clients throughout Chicago IL. Some of the main markets we cater to are healthcare, food processing and manufacturing facilities. We also supply solutions to companies with warehouses or containment areas. If you are an industrial business owner seeking concrete coating services, then consider the following advantages of our floor coating in Chicago IL:
Concrete Coating Withstands Heavy Vehicular Use – Concrete is a lot stronger than other flooring materials such as tile and hardwood. But even it is not indestructible, because, after a time, heavy traffic can cause it to crack. This can be costly to repair, especially if you are working with a large area, such as a warehouse or dealership. However, concrete floors that are properly coated and finished can endure much more traffic than those that are left exposed. Therefore, it is wise to seek professional coating services before subjecting the surface to heavy vehicular use.
It's Chemical & Abrasion Resistant – In addition to handling high traffic, our epoxy and urethane floor coatings also protect against chemicals and abrasion. This additional durability is particularly advantageous for those that work at food processing plants, where spills are quite common.
It's Aesthetically Pleasing – There's nothing like a shiny new floor to enhance your business's aesthetic. Utilizing the custom coating options at All-Tech Decorating, you can also add colored flakes to your concrete—a subtle but sure way to emphasize your company's corporate identity.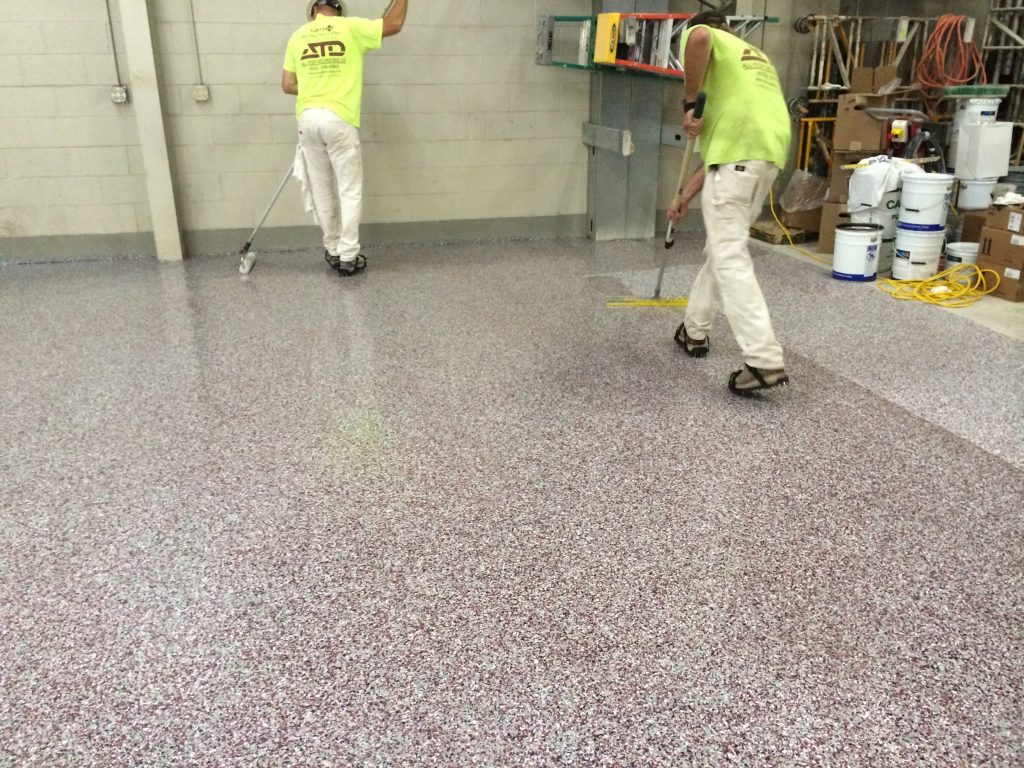 Schedule a Consultation
To talk about our options for floor coating in Chicago IL, call us at (630) 378-0003 or contact us through our online form. We have offices in Wisconsin, Romeoville and Chicago IL, and proudly serve commercial and residential clients throughout each area.